One of the most important aspects of game design is the core mechanic. It sets the foundation for a great game and determines its overall success. But what makes a core mechanic truly great?
According to the book Clockwork Game Design, a good core describes a single action that can be thematic and fun and suggests depth.
So what we are looking for in a good core is simply a single action with a lot of potential 💡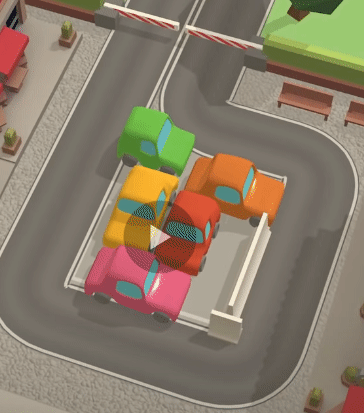 What is the core of Parking Jam? What is the single most important action in the game? It's moving cars to create space. Right! So, it is an action. It is thematic. When put into the context of a game it becomes fun. It does suggest depth as in there can be a lot of cars trying to get out. It sounds like a solid core.
When picking a core what we need to aim for is all of the above things and more. If we want to have great marketability, the core also needs to have a relatable theme. It can also be satisfying. The more and more layers that we can add to the core the stronger it becomes
Let's see some more cores
Swallow objects to grow → Hole.io
Follow fish to catch → Aquarium Land
Collect blocks to make a bridge → Bridge Race
Now that we have our core ironed out, let's discuss the goal. What is a goal and what does it do?
A goal gives our core meaning. Designing a goal is a very important step to get right because if our core and our goal do not collaborate well, the game will feel off and blunt. The job of goal is to structure the core. It's there to emphasize the core, not to fight with it. Most importantly, the goal should let players do what they already want to do with the core and more.
Let's see some goals
Moving cars to create space → Clear the parking space → Parking Jam
Swallow objects to grow → Become the largest hole → Hole.io
Follow fish to catch → Sell fish to earn money → Use the money to buy everything → Aquarium Land
Collect blocks to make a bridge → Be the first to cross the bridge → Bridge Race
Now, if we were to change the goal of parking jam to be something like this
Moving cars to create space → Open parking space for more cars
Would that be a game? Of course. But it does not emphasize the core. It's not letting the player create more and more space as they keep moving cars. It's limiting the player in a tight space where the player is getting out of space as more cars are coming in. The goal here is fighting with the core.
It's very important to get the basics right when prototyping the core. First, design a solid core and then listen to what the core wants when designing the goal.

Good core + Concurring goal = A great game!