The games we will analyze today are all puzzle match games where the players try to match items based on certain conditions. The aim is to understand the match games in depth, and how different developers added their own twists to the games. This deconstruction should help us better understand this space in the market. These games generally have the following characteristics
👉Items with a few classes (Each class has a distinct look. Eg: Color)
👉A match condition to match the items of the same class
👉A meta that matches the core and keeps players engaged
Different games play around with different match conditions and meta. We will analyze the games by the match conditions.
Match 3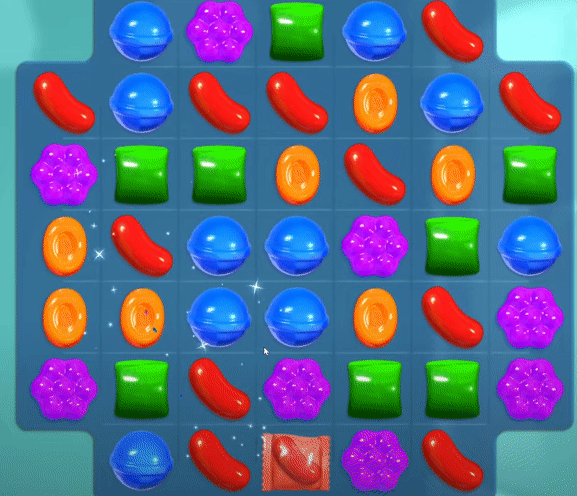 Match condition: Swap positions of neighboring items to match 3 or more similar items in a line
Stickiness: It's very simple to understand and start playing, making it accessible to a wide range of players. A single input in the game can create cascade effects that go throughout the board. It gives the player a sense of smartness. The player is constantly changing the board with every move which gives them a sense of control. With each move, lots of things are getting destroyed and replaced which gives the player a sense of power. This is happening at almost every move which makes it so hard to put it down once you start a level!
The meta is present to keep players going, one level after another
Humans are amazing at finding patterns and generalizing things. To keep things interesting, to break the patterns of simply matching items, these games introduce gameplay twists such as 'match near x, to gain x' and many more. These second-layer mechanics are coupled with the meta to make it meaningful in some way
ROYAL MATCH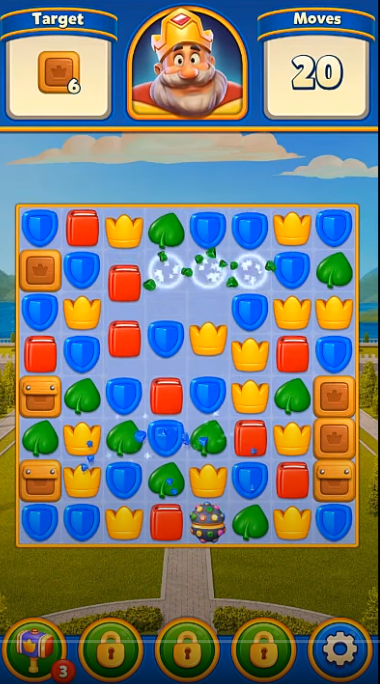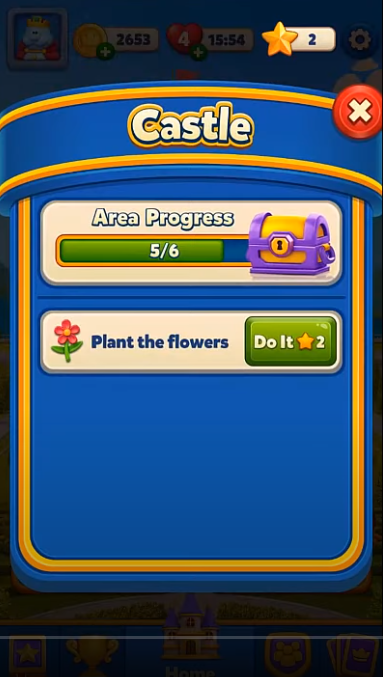 Here are some screenshots of Royal Match. The meta is based on tasks. Win levels to gain stars and use the stars to do tasks. The tasks are completed with the aim of unlocking and decorating all the areas in the royal palace.
Meta progression: Task-based system to unlock and decorate different areas of a royal palace
Homescapes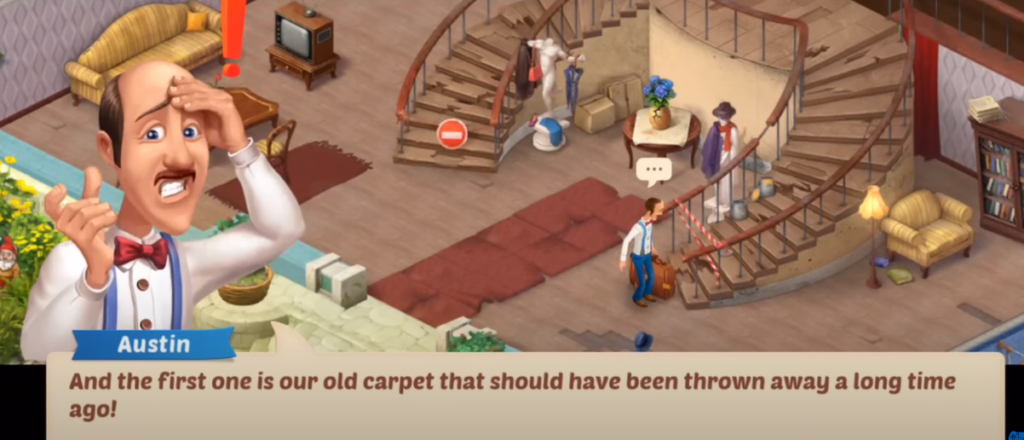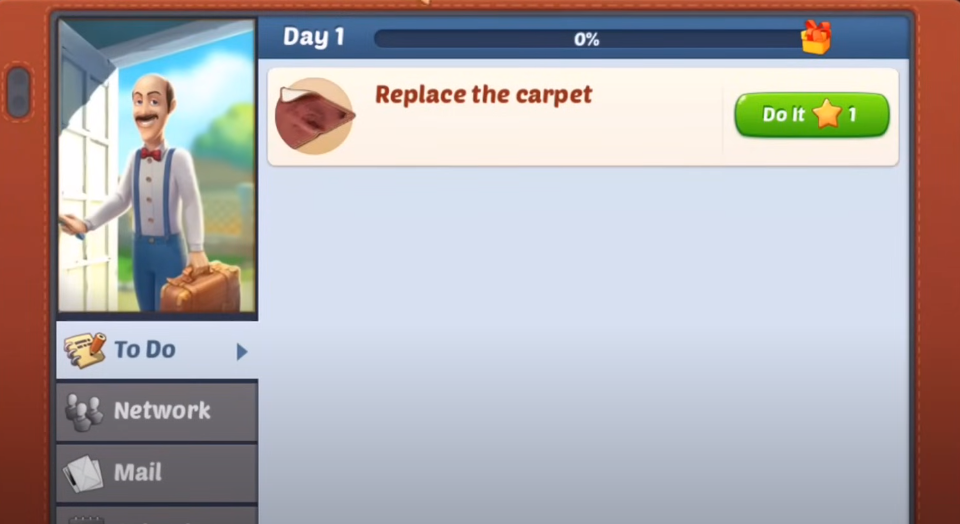 Homescapes uses a similar task-based system in their meta, but unlike Royal Match, it comes with a story that the user follows along as they go. The player works towards unraveling a big mansion and building it back up. For a specific player type, (explorers) it can act as a hook as they would want to see the story out. Unlocking the whole mansion can act as a chase price
Meta progression: Task-based system to unlock and decorate different areas of a mansion coupled with a story
Chrome Valley Customs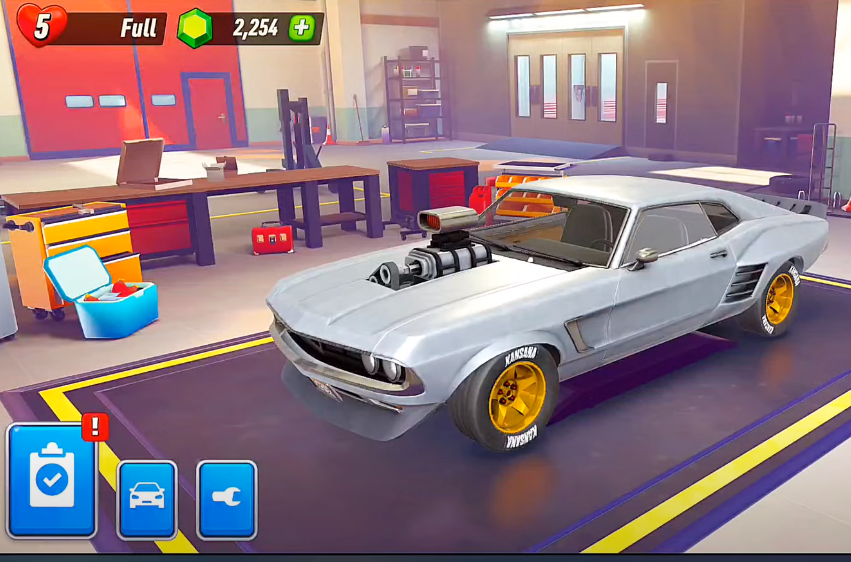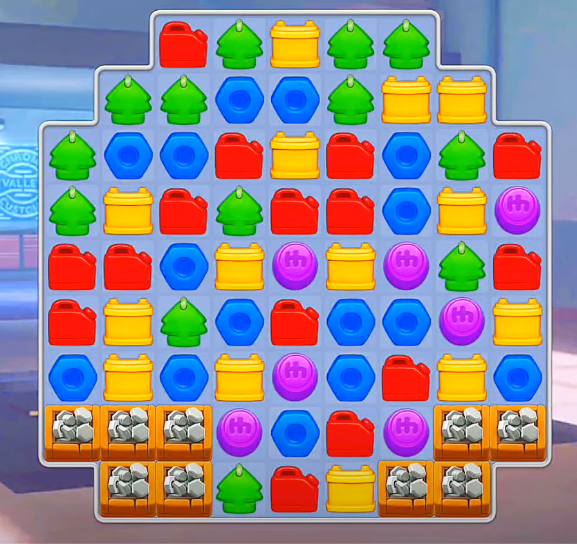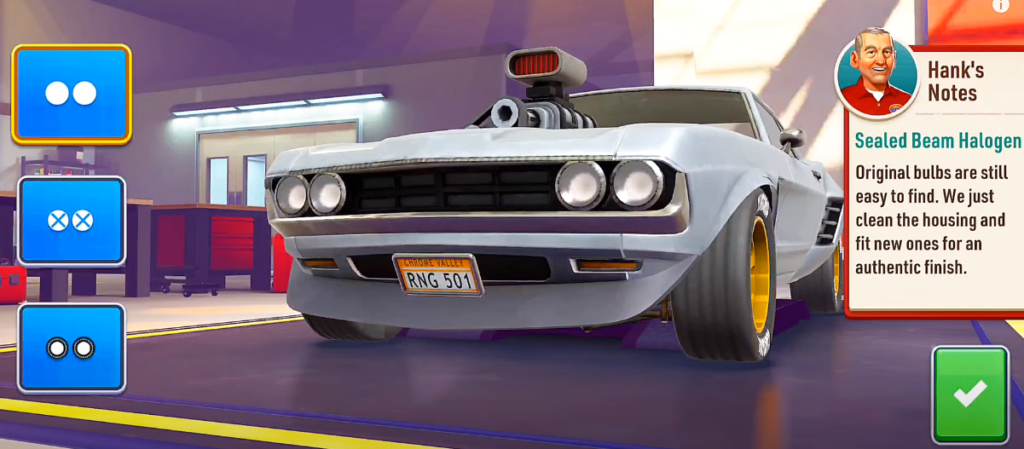 It uses a car modding meta possibly with an aim to hold the male audience. It works in chapters as each chapter focuses on a specific type of car modification. It doubles down on the task-based customization aspect giving the players a lot more customization choices that go toward the final car
Meta progression: Task-based system to create custom cars
FISHDOM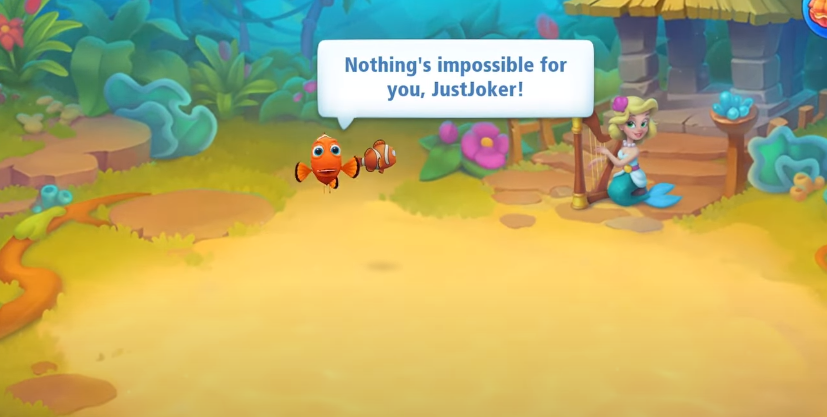 A meta where you decorate your aquarium. Unlike the others, it is not task-based but rather coins-based. It gives the player control over the decoration
Meta progression: Coin-based system to buy fish and decorations and decorate your aquarium
There are many other games in this category. None of them significantly change the core but put their full focus on the meta progression to stand out
Blast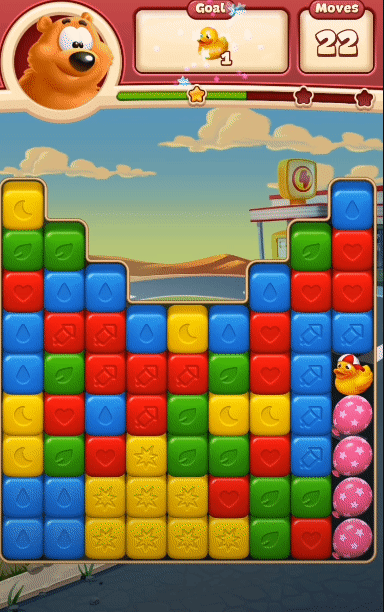 Match condition: Select an item to remove all connected similar items
Stickiness: It also has a similar stickiness factor to match 3. The core makes the game feel different while offering a similar sense of satisfaction to match 3
Toon BLast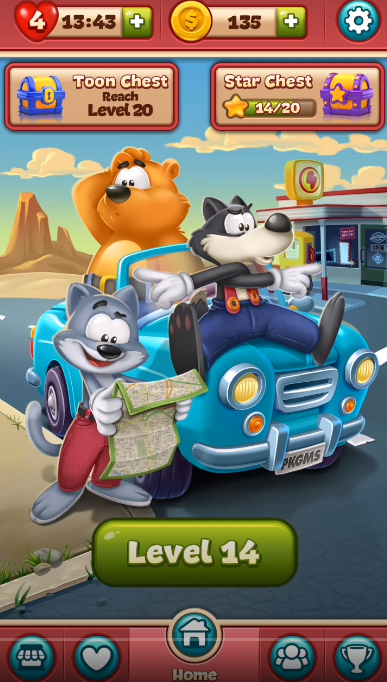 Core: This blast core, placed in a match 3 setting is interesting and brings out cool gameplay possibilities. An interesting decision for the player is to decide at which position to tap to complete the match. If the match is big, powerups emerge at the tap positions. The player can strategically collect powerups like this to unleash a cascade of powerups
Meta progression: No visible meta-progression other than the timed events and the level number. Some social elements are present
Angry Birds Dream Blast
Core: This blast core, is used here in a more dynamic setting that feels more natural to the angry birds style. There are no specific grid, different metaphoric gates where the balls are collected together. 4 or more similar matches spawns a bird with a unique ability. To pass the gate, the player requires collecting the required collection of balls on the lock. When matches are made balls drop from the top to cover the differences. Compared to Toon Blast it feels more dynamic, more fun and it feels a lot of is happening on the screen. Each level has a natural target of getting the egg drop to the bottom, not an abstract goal like other match games.
Meta progression: There are many layers of meta progression. Permanent progressions include Player and Map progression. Other timed progressions are available to keep things interesting. One of the most meta fileld games in this category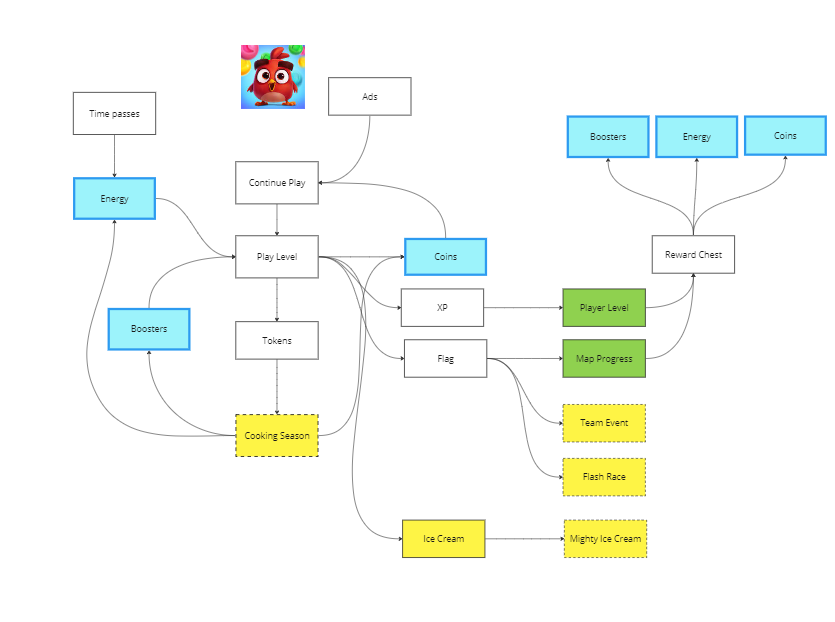 Connect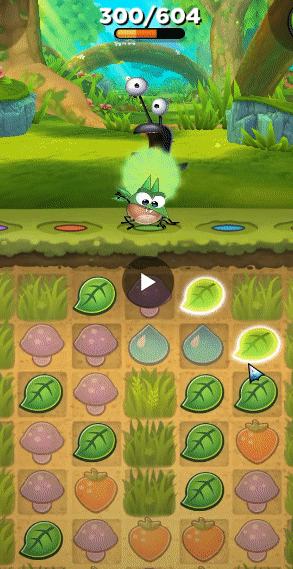 Match condition: Connect all neighbording items
Stickiness: Another fun twist. But unlike other mechanics it does not have the cascading effect. Although interesting gameplay elements can be added here to make the match longer and longer. We see meta being added with the core gameplay generally, rather than having the meta separate to increase its stickiniess. If done well, it works out great as we saw in the game Best Fiends. Here is the deconstruction
Connect Em All
Core: Connect core with abstract colors which I'd guess to keep the marketability high
Meta: No visible meta. Level based progression with a generic leaderboard
Best Fiends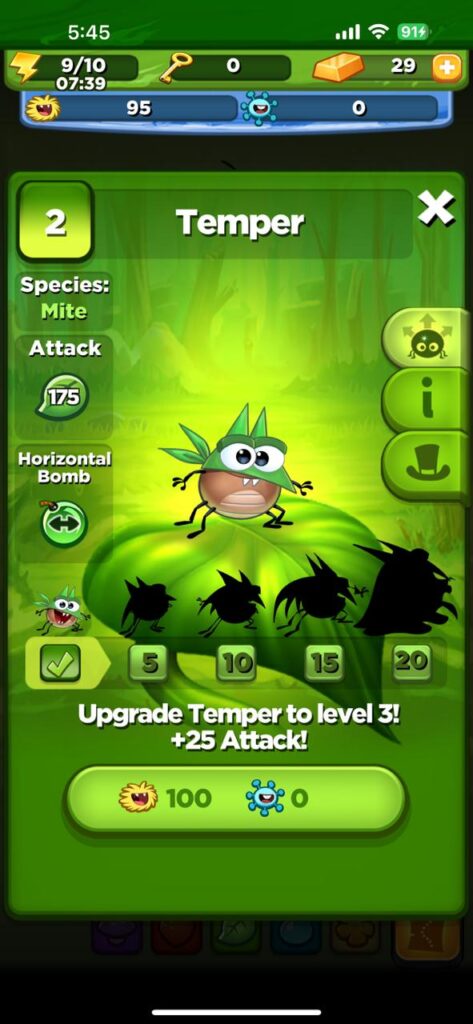 Core: Connect core where each element represents a hero (fiend) with unique powerups. Core has an RPG element which has the capacity to retain users for a long time
Meta: Each character has variations, upgrades, different powerups. The core progression is based around that. Read more here
Grindstone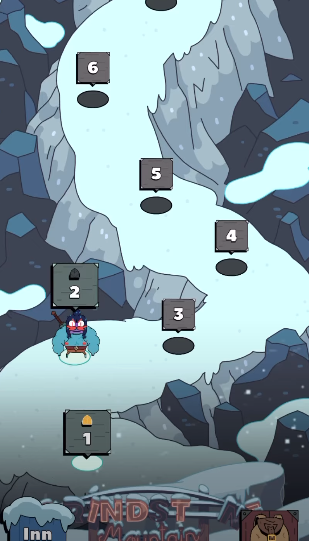 Core: Connect core where the connect starts from the player and ends by player reaching there. Due to this twist, it opens up a lot of opportunities for gameplay. The meta is embedded as story with the core which is very interesting. The player being inside the grid creates a new level of immersion
Meta Progression: Meta is the story progression which is shown in the map. As the player is going through the grid and exiting through the gate, it creates the immersion.
There are more categories to cover, but I'll end it here for now. I'll pick it up soon and continue it there. Till then, take care!